Welcome to the Sevenoaks Philharmonic Society
The Phil is a friendly choir of around ninety singers. At present we have vacancies in ALL voice parts – so come and join us; please see the members section for details.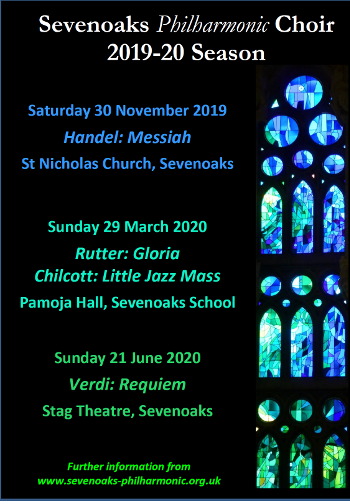 We sing a varied repertoire of classical music, both sacred and secular, with the Sevenoaks Philharmonic Orchestra under the musical directorship of Robyn Sevastos, accompanied by professional soloists.
We perform three concerts each year: in March/April, in June and in November/December, venues being St Nicholas Church, The Pamoja Hall, Sevenoaks School, Trinity School or the Stag Theatre. Our summer concert is a joint concert with the Sevenoaks Symphony Orchestra forming part of the Sevenoaks Festival. For this concert we are conducted on alternate years by Darrell Davison and Robyn Sevastos.
Our next concert takes place on...


Saturday 30 November 2019 7:30 pm
St Nicholas Church, Sevenoaks
Handel's Messiah
Conductor: Robyn Sevastos
Book tickets
Receive news of our forthcoming concerts...
Some of our latest reviews...
Songs from the Shows
"All the people I talked to in the interval were thoroughly enjoying it."
There were many very positive comments after the concert, with one person saying he had not expected to enjoy it and had come under sufferance. He was surprised at how much he had enjoyed it!
The Creation by Joseph Haydn
I loved the concert last night, thought it was the best that Sevenoaks have ever done, it was wonderful - well done!  Lovely balance between the different voices (no pitch issues!) and the orchestra.  If only you could always sing in that church, the acoustics are so much better than in The Stag!
Thank you so much for having me involved in your wonderful concert last night! It was a fantastic evening. Such a great atmosphere and beautiful music making from all. Stefanie (soprano soloist)
Celebrating Christmas with St Nicolas and Carols by Great War Composers
"The concert was wonderful. It must have been a lot of work to get it to such a high standard. We all enjoyed it. Well done and thank you all."
"We thoroughly enjoyed your wonderful concert. Britten's St Nicolas Cantata was an inspired first half choice for the Sevenoaks Phil, and the second half carols were spot on for the start of the Advent season while paying due respect to the WWI centenary."
An Evening of English Music including Belshazzar's Feast
I was absolutely stunned by Belshazzar's Feast. What an amazing challenge for the choir, and how brilliant to master such difficult music. And the energy! I thought it was an astonishing piece of music, and loved every minute of it.
Belshazzar's Feast was extraordinary, full of passion and verve, and one of the best things we have heard your choir sing. Everyone was spot on and keeping up with the spanking pace the conductor set. Having all the right instruments and sounds added to the timbre of the piece, but it was the choir that made the day. We loved it: an amazing piece of visceral excitement. We also loved 'Blest Pair of Sirens' and the other English pieces

Join Us
Why not join us for our next concert? Join us as a singer - the rehearsals are great fun and take the mind off the stresses and strains of the day.
If you would like close involvement with the choir and you are not a performer, then you could become a Friend.
Join as a Friend
Join as a Singer
Affiliations and Memberships
Contact Us
If you would like to give us feedback about our concerts or for all other general communications regarding the Society, please contact our Chairman, John Larner or our Choir Secretary, Polly Lockwood. Both John and Polly will be happy to discuss any matters regarding the Society with you.