Singing Day with Brian Kay – Verdi Requiem
Sevenoaks Philharmonic Choir is delighted that Brian Kay has agreed to lead another choral workshop for us this year, and we warmly invite all singers to join us.
Verdi Requiem will be the vehicle for this event – improving voice production and ensemble singing will be the aim of the day as much as improving understanding of the work.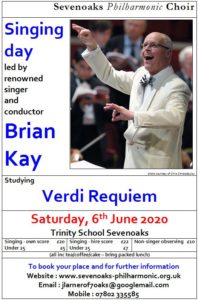 Click here for the Leaflet which contains full details.

Schedule for the day
10.30 – 11.00   Registration and Coffee
11.00 – 12.00   1st Session
12.00 – 12.15    Break
12.15 – 1.15       2nd Session
1.15 – 2.00        Lunch (please bring packed lunch)
2.00 – 3.00      3rd Session
3.00 – 3.30      Tea and Cake
3.30 – 4.30      4th Session

Participant Fee
(incl. Tea/Coffee/Cake)
Singing – own score                            £20
Under 25                                               £5
Singing – hire score requested        £22
Under 25                                               £7
Non-singer observing                        £10


Sign-up on-
line